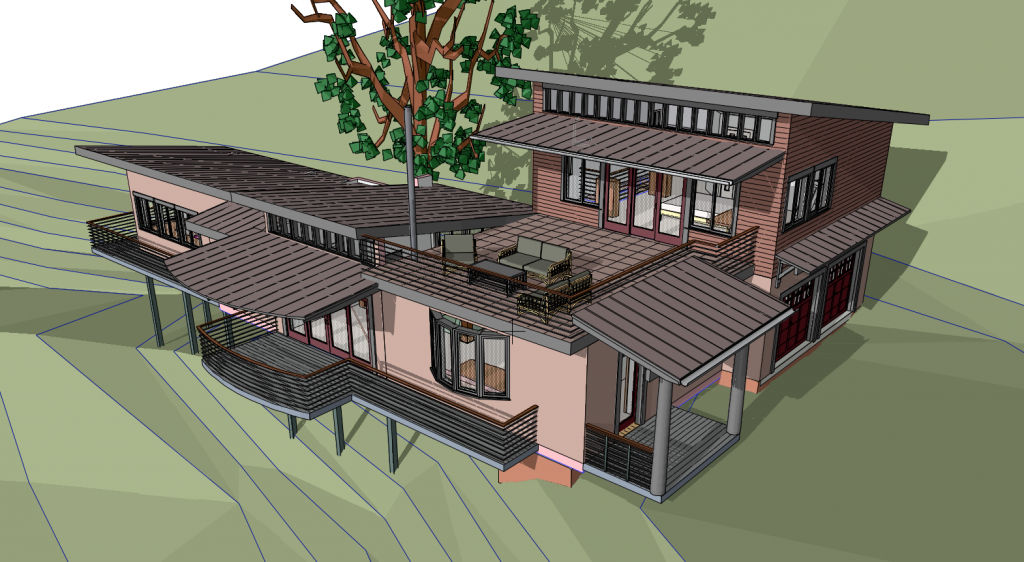 H:  YOU'RE ONE OF THE FEW STOCK PLAN ARCHITECTS SELLING SUSTAINABLE HOUSE PLANS. CAN YOU TELL US ABOUT THOSE?
RT: I've been interested in passive solar design for years.  I built my first one in the early 1980s as our personal home, which also served as my office.  At the time I wasn't involved with stock plans so I relied on custom work completely and hoped to base a career on designing passive solar homes.  It was quite an education to discover how few people were interested in the same thing as I was. In 2012 I decided to give the concept more attention since I had the website platform to experiment with.  Obviously, designing a site specific plan as a "stock" house plan has limitations, but you can still provide some basic design principles that can take a house to a different level.  While there is some interest in passive solar, it's minimal.  I haven't added new plans to that category as it hasn't generated anywhere near the sales that the standard plans have.  There's more interest generated by the Universal Design section so I'm putting more energy into that, as well as new standard plans. The "sustainable" aspect is largely dependent on the builder/owner specifying healthy materials which I can't truly address in the context of a stock plan.  If I get too specific with specifications I end up spending time to remove those very things.  There are too many options to consider, so those end up being decisions that the builders/owners need to address.
H: THE ARTS & CRAFTS BUNGALOW STYLE IS A SIGNATURE OF YOUR HOMES. WHAT INITIALLY ATTRACTED YOU TO THAT KIND OF DESIGN?
RT: When I finished architectural school I had an unpleasant reaction to sitting all day at a drafting table in an office.  So I became involved with renovating older homes in Atlanta and really loved them. I particularly appreciated the large usable porches, the use of wood, the details, etc., but mainly I liked the feeling you have being in those houses.  Many of the "in vogue" houses were sterile to me, and the generic homes being built were just trying to look like the person who lived there had money. Bungalows have features that reflect the principles I studied in school that most attracted me – primarily The Pattern Language developed by Christopher Alexander. My 5th year professor helped with Alexander's work when he was in school at Berkeley and I was able to spend a lot of time studying with that professor in my last year.  There's so much contrast between homes designed around our human nature and the way we live, and those homes that are simply trying to be unique and different ~ as in the modern glass boxes everyone was doing then. In the early 1990′s, when I shifted from custom homes to stock house plans as my primary way to make a living, there was an opening for me do something unique with the Arts & Crafts bungalows that I like so much.
After designing quite a few homes for infill lots in Atlanta, I realized there was a solid market developing in the sector of urban renewal.  I wasn't necessarily thinking new subdivisions would be built along this "theme", but am happy it's gone that way.
H: BACK IN 2007 YOU SAID "FORM FOLLOWS FUNCTION" HAS BECOME "FORM FOLLOWS RIDGES". DO YOU THINK THERE'S BEEN MUCH IMPROVEMENT IN STOCK PLAN HOUSE DESIGN SINCE THEN?
RT: Not really.  There are some really good plans out there now from a few good designers and architects, but a relatively small amount in comparison to what is mostly found.  There's been a resurgence in the "bungalow" look, but all too often what is labeled that way is just another track house tagged so web searches will pull it up.  I've always found the attempt to place as many steep ridges as possible on the front of a house to be a Disneyland fantasy trip of make-believe; mainly making-believe you're rich and wanting everyone to think so, too. I find it silly and sad.
H: WHERE DO YOU SEE RESIDENTIAL DESIGN IN 50 YEARS? DO YOU THINK DESIGN AND CONSTRUCTION WILL CHANGE MUCH?
RT: I do, especially in the construction methods.  There are so many new systems now, and more coming out all the time. These new systems take time to be incorporated into the workforce. The trades tend to resist change, but there are some great new ways to build walls, floors and roofs. I'm particularly interested in the Living Roof concept.  It just makes total sense to me to have a roof usable for growing food and flowers, as well as creating a great place to hang out.  If you consider the energy rewards, it's a no-brainer. This is one of the Patterns in the Pattern Language I loved back in 1972. However, I'm not making any new stock plans along those lines quite yet.  My wife and I are planning to start construction soon on a new home that will have a flat usable green roof, and I am very excited to have the opportunity to build it. Maybe it will lead to some new plans once I go through the process.section of the web site devoted to green roof plans. Many of my plans can be adapted easily for that, so one day I hope to make that happen.
https://blog.houseplans.com/article/architect-rick-thompson-talks-bungalows-and-living-roof-plans