« Back to Previous Page | Blog Home »
Feeling Blue?
BYOBlue is a nationwide collaborative between Architecture 2030, Earth Day Network and numerous other groups calling for an immediate moratorium on the construction of any new coal plants. In 2007, Fifty-nine coal plants were canceled – over a third of the 151 planned. That was before millions of people joined together to say No Coal by participating in BYOBlue. For more information you can follow this link http://www.byoblue.org/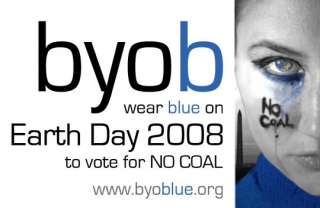 So, just wear blue April 19th through April 22nd. If you want to bring even more attention to the issue, just wear blue underwear and nothing else. That ought to bring attention to the matter.